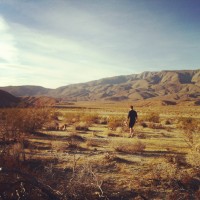 Ocotillo Wells, near San Diego CA, is known for its outdoor activities such as ATV and other offroading, biking, and hiking enthusiasts can tell you. Gold prospecting is also on the rise as a major outdoor activity. There are still many unexplored places to find gold. The legend of Pegleg Smith is one such lore but there are many recent finds that might just back up the tall tales of this legend. In future posts we will explore where and how to find gold in the desert.
PegLeg was a fur trapper who trapped and sold his wares in the big cities such as Los Angeles. There are some conflicting accounts to the story but basically Peg Leg, who recieved a wooden leg after accidentally being shot, travelled to Los Angeles to deliver dry goods. He got lost is a huge desert dust storm. After the storm passed he found very heavy shiny black heavy rocks that were of interest to him due to their irregular beauty. He went on to LA only to find that these rocks were actually gold covered in an oxidized coating of another mineral on them. The oxidation of a mineral coating gave them a shiny black appearance that didn't look like gold. He later tried to find his way back to this area but couldn't exactly locate it. But he did remark that there were two flat mountains near the canyon where he found these nuggets, standing by themselves, on the surface. According to the legend the desert wind uncovered the nuggest during the sandstorm. He searched in vain for the rest of his life but was never able to find the location where he had found the gold nuggets.
Smith traveled to the Chocolate Mountains (and possibly the Santa Rosa Mountains, or the Borrego Badlands) where, after several years of prospecting, he was forced, by local tribes, to escape the area. Smith then sold maps and claims to other prospectors of a mine known as the Lost Pegleg Mine until his death in a San Francisco hospital in 1866.
Desert Prospecting