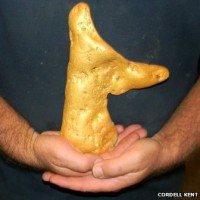 An amateur prospector in Australia has found a 177oz gold nugget. This is a tremendous find! This amateur did what all good prospectors do, go to where gold has been found before and use new methods to detect the gold. This nugget, in an area that has been mined for over a 100 years, was found beneath the surface using a metal detector.
The following is an excerpt from the BBC:
The unidentified man, using a handheld metal detector, found the nugget on Wednesday, lying 60cm underground near the town of Ballarat.
Its value has been estimated at more than A$300,000 ($315,000: £197,000).
Local gold experts say gold has been prospected in the area for decades, but no such discovery had been made before.
"I have been a prospector and dealer for two decades, and cannot remember the last time a nugget over 100 ounces (2.8kg) has been found locally," said Cordell Kent, owner of the Ballarat Mining Exchange Gold Shop.
"It's extremely significant as a mineral specimen. We are 162 years into a gold rush and Ballarat is still producing nuggets – it's unheard of."