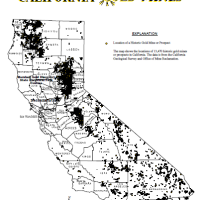 Prospecting Tips
Gold prospecting is a lot of fun even if you don't find any gold. But we can almost assuredly help you with these tips from an seasoned prospector as well as a few fresh ones
Choose an area that has been productive with gold in the past – chances are there still is some gold there
Study geology and mining records. Many lightly explored places exist in the back country. In fact this is when the real fun comes with adventure. If you are prepared to do some backcountry searching a prospecting trip can be rewarding and you might find some gold.
Placer deposit is a concentration of natural material that has accumulated in the unconsolidated sediments of a stream bed. Heaviness and resistance to corrosion make gold an ideal substanceto accumulate in placer deposits.
Panning is the simplest method of separating the gold from the silt, sand, and gravel of the stream deposits. It is the method most commonly used by the beginning prospector.
Most importantly, go out and have fun. Enjoy the great outdoors and what nature gives you, in gold, or in adventure.