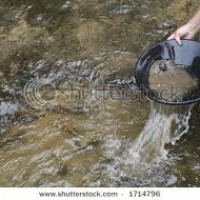 There are many errors people make in attempting for find and prospect for gold. I know, I went through this myself. But slowly I learned the methodology that has helped me to prospect and actually find payable gold.
1) Looking in the wrong places – I don't care how good you are, if you are looking in the wrong place you won't find any gold. We teach you where to find gold by doing the proper research first. We show you the software tools and techniques that you can use to find gold.
2. Not knowing how to read streams – if you found a producing area and you are now starting your hunt, you need to be able to understand where this gold may be. Learn how to read a stream to understand where the gold will be.
3. No knowledge of gold geology – you don't have to be a geologist but if you run across specific material you can be sure that gold is near. Do you know what these materials are?
4. Not using proper equipment or methods – understanding the method to use in the area that you are in is critical in obtaining gold. Understand what is the best gold prospecting equipment to use for the type of gold you are going after. Learn about whent to use gold metal detectors, when to dry wash, and when to pan. In short you need to learn what method is best for the type of prospecting you are doing.
5. Giving up – Gold prospecting can be time consuming but when you find gold, it will all be worth it.  Sign up for our free booklet on prospecting  and we will help you find gold.
Tags: gold geology, gold prospecting, gold prospecting equipment, metal detecting, treasure hunting, where to find gold